WORLD MILITARY PARACHUTING CHAMPIONSHIP 2022
The 45th WMPC will take place from June 20-30, 2022 in Güssing - Austria
45. World Military
Parachuting

Championship
Under the Flag of CISM (Conseil International du Sport Militaire) the Austrian Armed Forces are the organizer of the 45. World Military Parachuting Championship from 20th to 30th June 2022 in Güssing.
In cooperation with the Territorial Military Command Burgenland the 19th Infantrybattalion will host this Competition. Join the website of the Austrian Armed Forces: www.bundesheer.at
Competition

area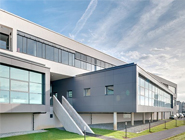 Montecuccoli-Barracks Güssing
The InfB 19 is stationed in the Montecuccoli- Barracks, in Europe's most modern barracks in the Burgenland town of Güssing. An essential task of the InfB 19 is the establishment and training of cadets who are available for international missions. See the Video
Airfield Punitz (ICAO-Code: LOGG)
The only airfield in Burgenland with a paved runway. It is the south-easternmost airfield in Austria and lies nestled in the rolling hills of southern Burgenland in the middle of the spa region and wine idyll.
Coordinates: N47° 08' 54''; E016° 19' 06'
Address

during the Competition

Montecuccoli-Barracks, Competition Center 2022

7540 GÜSSING, Wiener Straße 14 - AUSTRIA
Phone: +43 (0)50201 16 31604, Fax: +43 (0)50201 16 17310
E-mail:

cism45wmpc@gmx.at
Town

& Region

Güssing the jewel of southern Burgenland ...

... lies nestled in the rolling hills, at the foot of the historic Güssing castle. Because of the mild climate and the attractive location, the lovely city of Güssing offers its residents a high standard of living. The small picturesque town with its 4000 inhabitants offers many cultural sites as well as a good infrastructure which includes modern research facilities, the modern hospital and a fantastic sports and leisure centre. Güssing provides an attractive shopping opportunity to all and it is also the school district capital.